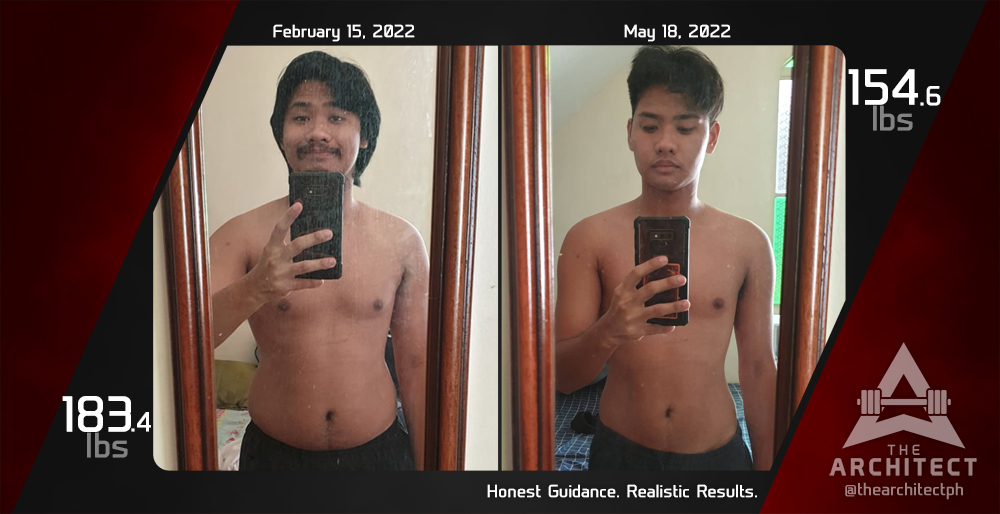 A lingering frustration with his weight has always plagued Ade's bubbly face. Prior to the pandemic, this active 23 year old worked out almost day and night to try and keep himself fit but the more he hits the gym hard, the more tired he grew and the less improvements he observed. It didn't take long before frustrations set in and when the pandemic hit, it was all but inevitable. Ade gained a hefty 20+ lbs during this period and that was when he decided he needed professional help.

This sort of "all in" mindset when it comes to working out is quite common as misconceptions abound that this will help a ton for weight loss purposes. While working out per se isn't all that bad, overdoing it will most certainly cause a spike in your cortisol levels(stress hormones) which then will encourage your body to store more fat, experience lethargy and hormonal issues will slowly set in.

We tweaked his nutritional habits as well as his intake and add that to a properly programmed workout plan, Ade lost a staggering 28.8 lbs in just 3 months. Beyond the weight, you could clearly see the improvement in terms of his midsection bloating from both front and side profile. His energy levels sky rocketed and hunger is nowhere in sight. We literally fixed years worth of weight problems for Ade in a span of 3 months and all it took was proper computation and programming.

This is how important proper guidance is. While there are a ton of literature found online, a lot of them are either misconstrued or structured in a way to promote or sell you a product or a service. Hence the increasingly number of fad diets and protocols floating around.

If you're tired of all the fad and would like a NO BS, honest guidance with realistic results then look no further. Feel free to visit https://thearchitect.ph for more info. We have beyond 390+ client transformation stories posted to date!