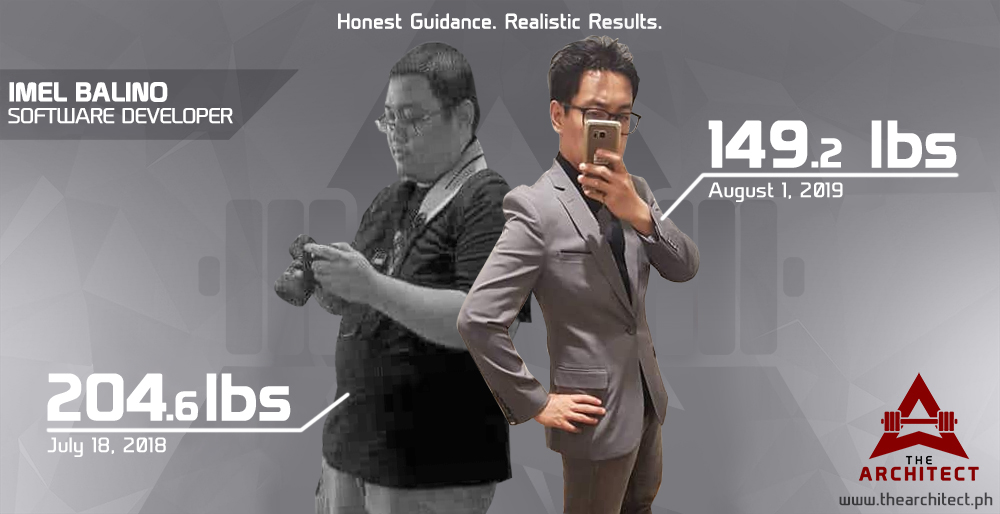 We are very much pleased to induct Imel Aimeru into our Ambassadors' Club. Imel has shown exceptional dedication during his 1 year with us and has shown exceptional results. As a matter of fact, our multimedia team had difficulties utilizing his old photo due to it being pixelated, however despite this, you can still CLEARLY see the difference a year after he started his journey with us.
We very much understand the struggles people like Imel suffered before during his obese days. Health issues are very much common, but the most debilitating issues are social ones such as lack of confidence, low self esteem and self-isolation to name a few. These are also the reasons as to why Imel didn't have high-res photos of himself then. We want to show everyone that it might seem hopeless, but that just isn't so. It all comes down to having the right guidance and the right protocol to follow. Imel is a living proof of this.
I guess the only downside to Imel's transformation is that he needs to deal with the cost of upgrading his entire wardrobe and the cost is quite steep. What used to be a very reserved individual, started shopping left and right. Our weekly checkpoints would turn into weekly show offs of what he could wear now and the new clothes he bought for that week, and we're not complaining! We're very much happy as to how far Imel has progressed and we're very much hopeful that his transformation and his story will inspire you guys that it's never too late and never to give up.
For a NO BS, honest guidance with realistic results, please do visit https://thearchitect.ph for more info! We have over 190+ inspiring client transformation stories posted to date!