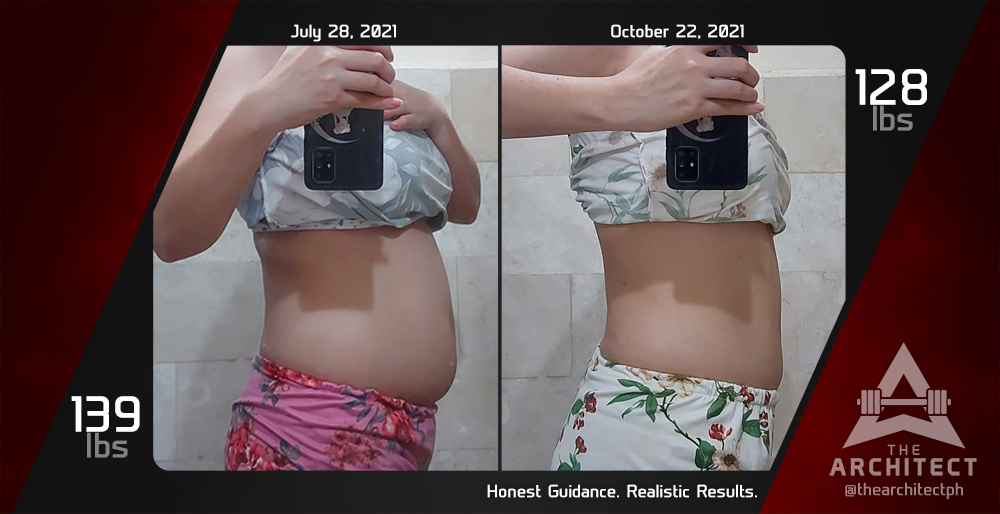 Anonymous Anastacia
33 Years Old, Confidential
Weight Change – 139 lbs to 128 lbs
It's no secret as to how difficult it is to maintain weight especially during the pandemic. With the convenience of food delivery services and with the previous lockdown measures put into place across the globe, people have been more carefree with their eating habits and as such this caused a lot of our friends and family members to bloat up. One such case would be Anastacia.

Since Anastacia's problem is heavily rooted in her eating habits, resolving the root cause actually resolved a lot of her bloating issues as you guys can clearly see from 3 months of engagement alone, she was able to lose 11 lbs and a whole lot of unwanted tummy bulge from both front and side view profiles! All of this attained from a change in her nutrition alone!

Anastacia is just one of the many cases we've handled and improved during the pandemic. If you're suffering from the same issues and is having a hard time in dealing with it alone, then perhaps it's high time that you seek professional help.

For a NO BS, honest guidance with realistic results, please do visit https://thearchitect.ph! We have beyond 370+ client transformation stories posted to date!